Avengers has been a long MCU journey since the very beginning of their first film Iron Man (2008), ending up making the finest crossover of many superhero films in the same Marvel Cinematic Universe. Ever since these superhero movies came out, the 21st century has concealed yet another great big screen genre – Superhero Adventure/thriller. Eventually, the huge Marvel Studios moviedom success has become a huge blockbuster of superhero films consisting about 22 films playing against catch-22 nemesis. But when it comes to its last three films – Infinity War, Captain Marvel and the Grand superhero film finale Avengers Endgame.
Marvel comics has truly endorsed its Comic book to heights of superlative silver screen signatures, not even stopping after the huge cinematic collectible ends on 26-27 April 2019. Right in the middle of the two biggest twofold movie parts of Avengers assembly, Captain Marvel is introduced in the month of March. The character of Carol Danvers feels like the true savior of Avengers, after contemplating how deeply profound and powerful its released trailer is.
We'll just dig deep into the latest news of Avengers Endgame, along with those big fan theories trying their best to mess the upcoming 'magnum opus' movie (End Game) Marvel has ever made up to date. Of course most of them include those Twitter microblogging precis, Reddit users thread posts, big blockbuster blogs telling they know already the real Avengers 4 plot synopsis.
Talking of the latest news for the Avengers Endgame is nothing but those self-deluded aficionado theories coming up with extraordinary End Game make-believe revealed epitomes. On the other hand, most of the newsflash concerning Avengers Endgame grand finale ending are those speak-squeak leaks made by staff and actors during interviews at TV talk shows. Since we all know how much Mark Ruffalo is waffle-whimsical, and comes up with spoiler with his "slip of the tongue", as he calls it. One of the biggest 'spoiler "big mouth" alert' was thrown back in a 2017 The Tonight Show starring Jimmy Fallon video clip. Don Cheadle (War Machine) getting triggered up in a second, wordlessly hollering 'Du-de-Dude' to Mark Ruffalo for giving too much more than verbatim required.
I guess this was one of the main reasons the Avengers Infinity War trailer had Hulk in it, and later on diminished into dust already in the real-time running Avengers 3 movie. I guess this is how the Russo Brothers slammed Mark aka Bruce Banner (Hulk) rather going on for a solemn 'You're Fired' penalty against him.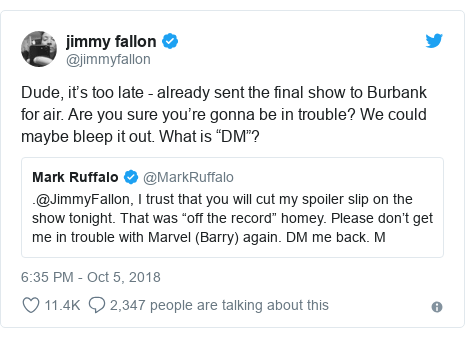 On the other hand, according to one of the IGN theories that why Hulk isn't making Bruce to the Goliath giant incarnation, is simply because even the green macho man is scared of the mad titan. Mark Ruffalo told IGN in 2017 that Thor: Ragnarok was the beginning of his character's evolution with what they've carried out their relation of sharing the same body at the exact same time. Meanwhile, there is something to do with all those Infinity Stones influencing trajectories going on out there. Nonetheless, we all wish we could see the Hulk in the final installment of the 22-23 film-based epic End Game epilogue.
A few more major spoilers include Avengers blogs posted by We Got this Covered, Screenrant, Collider, Den of Geek, Nerdist, Ranker, Bgr, and many other major Comic book to cinema enthused websites. Even thread posts by users on Reddit, Newsvine, Popurls, Digg, Quora, StumbleUpon, Mashable, Hacker News, and other websites meant to create dilemma and debates on hot topics, cultures, rules, policies, and news.
When it comes to theories, one of my favorites is the notion by James Cordon, claiming that it's 'A switch', those who've dusted off are alive and those remaining have actually vanquished. This theory just makes perfect sense for Marvel's MCU to kick back in the "fan circle space" with much-awaited exhilaration. In case, you're missing that Russo Brothers "You're Fired" tweet. Here it is:
On another amazing Endgame fan theory posted. we'll check out a few punchlines posted on a profoundly written thread post by the Avengers enthusiast:
Doctor Strange vision timeline included almost 14 million flashbacks (and flashforths) when he had the Time Stone with him. At some point, he travels to different dimensions of the multiverse to find the exact moment in time when they were triumph against the Titan mad despot. Thus, every Avenger know what the right time and place to attack Thanos and kill him once and for all.

Scott introduces an alternate-Tony to the quantum realm and that lets them journey between realities, finding stones and altering events enough to turn the tide against Thanos.

Captain Marvel shows up to find SHIELD and Fury gone, but ends up finding Tony in his place. Thereafter, Tony tells her he needs to be saved in the past, sending her back to rescue him from space.

According to this mindful theory – Thor gets the Odin force much early, Tony engages in Nano-technology in the past, and then plausibly Scott Lang brings on the Pym particles.

The Watchers show up and mention how they've been watching events unfold and can't let this fight continue. They take the stones and banish Thanos to some anti-reality hell. They leave and the Avengers are left, in 2012 to fix things.
Furthermore, this theory grinds it all until the very end, letting readers realize how it's important for characters like Tony Stark, Steve Rogers, and others to revive their past for a perfect story arc. If you're looking for some bizarre places to find theories, then this Marvel Maniac Twitter user comes up and speaks out some surprising Lego findings of his, suggesting these famed miniscule building blocks might be hiding some End Game Easter eggs for them. Lego toys, which he thinks might have some cues, includes Avengers Super Quinjet Lego set, Captain America: Attack of the Outrider, War Machine Crusher, and Iron Man Armor Room to be exact.
With all this discussed, we acknowledge how fans, critics, celebs, hosts, and even those who've not even watched a single Avengers movie are getting into the act of creating crazy-to-be-true End game theories. Lastly, you shouldn't miss out more magnificent Avengers 4 speculations up to date.